Fine Art Photography
Collages, Seascapes, Landscapes, Botanicals and more
__________________________________________________
To view the online gallery click on a category below.
Stock Collage Botanicals Landscape Seascape Surrealistic Creative
Comments from customers:
"I just wanted to let you know that I had a conference call yesterday evening and my good friend from Waimea, Big Island said these past days its been raining, he looked outside to see a moon with raindrops falling from heaven and it puddled every where and to know that the puddle leads to somewhere, which is the ocean and when it does reach the ocean it leads to a different life that is how our goals are based on. We have something to achieve and we are doing everything that it takes to get it(your art work has totally influenced and encouraged me to do what I do)and because you have shared your heart with so many people from all over the world I wanna do the same by sharing such good information to you and all the people I encounter,thats how I felt after seeing Moon Drops. Because I don't wanna be just a puddle I wanna be that puddle that travels to the ocean and venture off to the many things the ocean has to offer." Kepa
" There is so much hope and optimism in your photographs. We will cherish them. Thanks for once again showing me what beauty still remains." Paula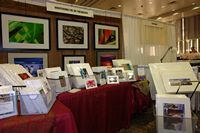 The East Honolulu Clothing Company carries a variety of my photographs and cards. They are located in Waimanalo on the island of Oahu. Their phone number is: 808-259-7677
For all your framing needs please visit Frame Destination.